USO 2016 Update #6 - WEDNESDAY!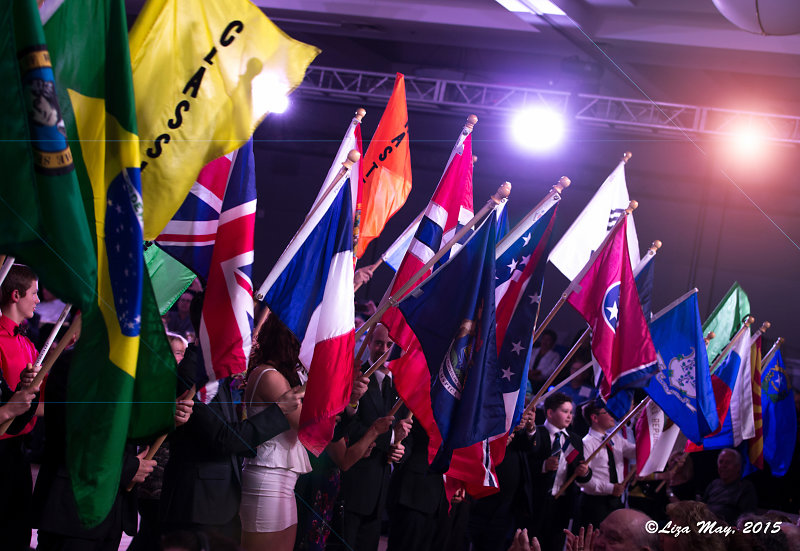 HERE WE GO!
We're here! Ton of people here! Already!
This is not like other events where people start drifting in late Thursday night and Friday. Dancers from around the world arrived in the US last week and have been dancing their way across the country to the Burbank Marriott.
Dancers everywhere all over the hotel last night when we arrived! Already, on a Tuesday!
The US Open Event Directors are here too.
Phil Dorroll, Ruth Farmer, Raymond Harris, and Sandy Palmer arrived last weekend (Phil drove a truckload of equipment from Florida to Los Angeles) and for four days have been building a small city inside the hotel. Lighting is up! Megatron are screens up, risers are up, stage is up.
It's beginning to look a lot like Christm ... the Open!
Raymond says that as of this morning we will see:
26 Classic couples
15 Showcase couples
20 Rising Star couples
15 Young Adult
10 Young America
10 Teams
7 Cabaret routines
9 Masters couples
12 Sophisticated couples
Haven't heard numbers for Pro-Ams, Strictlys, or Jack and Jill but I'm told Pro-Ams are gigantic this year; also general pre-registrations are significantly higher than last year.
Here is he link for the livestream
And here is the schedule for the weekend - to know when to watch what.
This afternoon we have two seminars:
"Understanding Relative Placement" by Demery Leyva;

"Judging at The Open" by Chief Judge Yvonne Antonacci
Followed by two Intermediate level workshops with Sonny Watson and Ben Morris.
Followed by DANCING! And EXHIBITIONS!
And that crazy beautiful "opening scene" in the lobby.
With one difference this year - they changed the lobby! It looks totally totally different now! Disorienting. It's kind of white, and open, and was intended to feel more spacious, and that weird "island" thing sitting in the middle of the room - the front desk - that's gone now. The new front desk is along the back wall, like in non-USOpen hotels.
I don't think dancers will even notice. After bleary-eyed 20-hour flights, Thanksgiving travel chaos, the excitement of seeing friends, stressing about routines, and just THE OPEN EVERYTHING - I doubt anyone's thinking about a hotel lobby. We'll see if the vibe in that corner ballroom with dancers spilling, falling, exploding in and out of the one corner door; and that sweaty overcrowded hyper-overexcited jet-engine-fueled frenzy dance mob inside - we'll see if the vibe is different in any way because the lobby has been renovated. lol

The weather here is beautiful! Again! We left freeezing temperatures at home in DC, and weatherman says snow, freezing rain - winter, in other words - over much of the country this week. So we are not taking these waving palm trees for granted!
Omg I can't believe we're actually here again. I think this is my favorite thing in life.