HST 2015 Update #6 - Terror Will Not Stop Us Dancing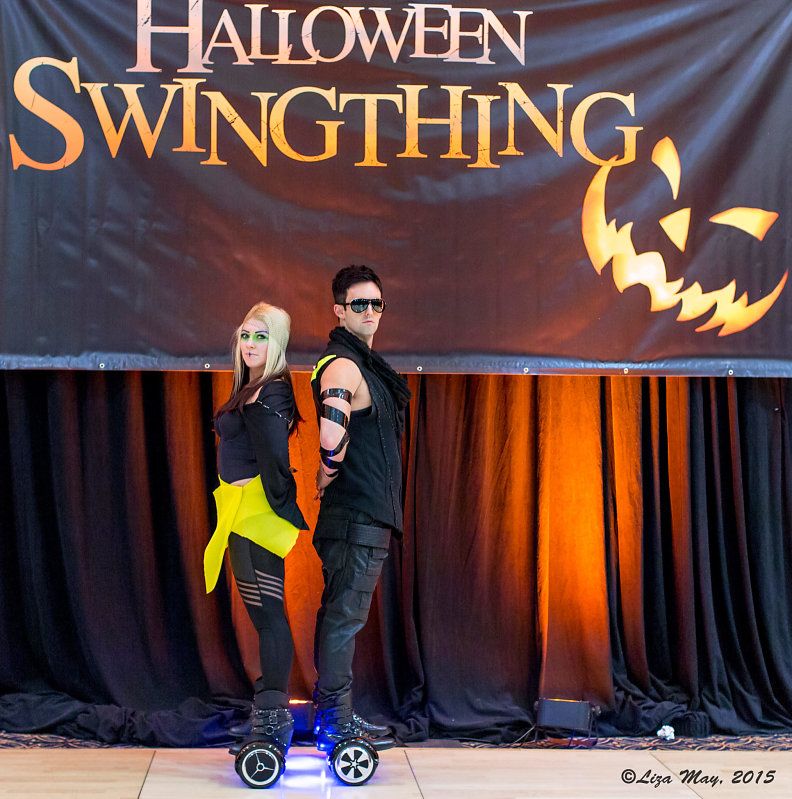 It's been two weeks since Halloween SwingThing and so much has happened. Most importantly a bomb on a commercial Russian airplane, and now - a horrific terror attack on our beloved city of Paris.
The international west coast community stands by you, our friends in France, Russia, and elsewhere around the world. These are attacks on all of us.

It is US Open season. Two weeks! Dancers around the world perfecting routines, finishing costumes, packing for long flights to Los Angeles.
Before Halloween SwingThing fades into memory I want to say a few last things about this unique event; if for no other reason than to have a "record" for future year's readers who might be curious.

A few words about the HST Invitational Jack and Jill on the last day of the event.
I know I've said it before: When champs are happy and having fun at an event, you get great dancing from them. This Invitational (and the hilarious Scary Strictly) was fantastic.
[You know how we say "his dancing was great" "her dancing was fantastic?" I realized these words don't really describe much. "Fantastic dancing" for me might be blech dancing for you.
So here's what I mean when I say "fantastic." I mean the dancing was:
Smart ("how did he THINK of that?")
Beautiful ("intentional - no rogue body parts.")
Athletic ("power and control")
Dramatic ("makes me feel emotion")
Hard ("looks easy")
Artistic ("shapes and movements that enhance the music")]
Much of the dancing at HST was so "fantastic" I'm hoping videos go viral on youtube; that great choreographers take notice, get a glimpse at the improvised brilliance our dancers are able to create - on the fly - over and over again, in performance and with a stranger, at 5am, in a dark corner of a ballroom.
The theme for Sunday was "Futuristic." Requiring even more costume silliness after a full day and night of Halloween. A lot to ask, and the result was that the costumes were funny because they mostly appeared to have been thrown together last minute with generous amounts of other people's clothes; makeup, wigs, and sunglasses.
And tin foil. A whole lot of tin foil.
Jordan emceed. Zooming around on his hoverboard, speaking in a very bad German accent.
Because, evidently, in the future everyone will be German?
Oh, and also, in the future ("Ze Fee-Yoo-Cha") things won't be "cool" anymore.
They'll be "toast."
Jordan: ["In ze Fyoo-Cha vee vill haf a deeferent verd for "cool." Vhat veel vee say? What veel vee say? Wait! I know! Zee word veel be "toast!" Vee veel say "zat girl ees toast! Zat dance was so toast!"]
Don't ask.
Just a curious discharge of nonsense to issue from Jordan's lower brain, so random it stopped all life in the ballroom for a few moments. But then you could hear murmurs of people trying it out in a German accent, ("Doze dance boots are so toast" "Dees chair ees toast.") Weird ... but strangely catchy.

Each couple had to dance to 30 seconds of Futuristic "music" followed by a contemporary pop song.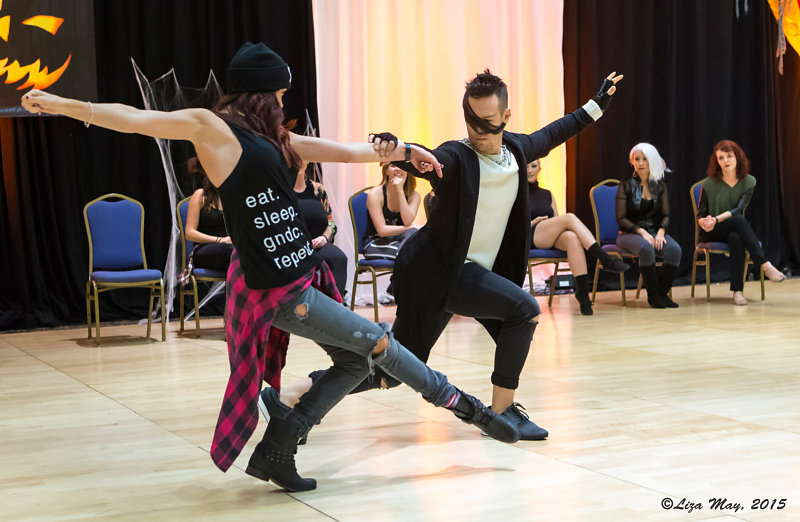 1. Benji drew Jessica (Both Torri and Jessica showed up as "future Clonch sisters" - both dressed in beanies, tanks, and red flannel shirts tied around the waist.)
Their "future" piece was the beautiful "In My Dreams"
Astonishing! These 30 seconds maybe my favorite of the weekend, watching these two dance to the rhythms of spoken poetry.
(I'm a huge fan of rhythm and cadence, and silences throbbing with pulse; spellbound by the sound of crickets, for years searching for words to describe the changing complex harmony of crickets from spring to fall; imagining a dance to the song of summer crickets.)
Their second song was "How Deep Is Your Love" (Calvin Harris) which, like much of today's pop, is very clubby/hustle-y, and to which they did a few beats of not-very-good hustle.
Jordan: "Een zee Fyoo-Cha vee all do zee HUSTLE!"

It's fun to watch the other champions' faces during an Invitational, watching their friends dance. They always explode in cheers for each others' jokes and tricks.
But every now and then - like with this dance, with its relentless astonishment of creativity - it's something else watching their faces. This time they weren't cheering, they weren't even moving. Just sitting there, still and open-mouthed, staring.
I wish I could see what Champions can see with their trained eyes. Because who knows - maybe they're staring not because it's beautiful, but because it's a massive train-wreck. That's always a strong possibility.
But not this time, I don't think so.
This was one of those dances. Benji and Jessica gave us another of those fleeting, dazzling moments we have so many of in our world. Moments almost painful because of their stunning beauty and their transience.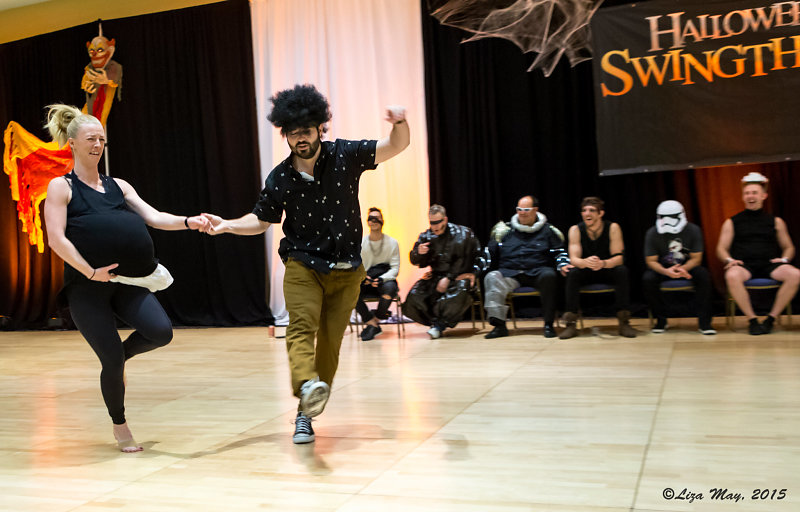 2. "Future BenMo" in huge hair; and Courtney-with-child, "Future Courtney" - with giant pregnant belly.
Jordan: [Whose baby eez zees? Ah, eet eez zee fyoo-cha! Zee baby-fodder ees an app!]
Beeping sound-effects for their first dance, for which they started slow and smooth until suddenly Ben becomes inspired and JERKS Courtney out of her anchor, she waving at her pregnant belly and impeaching him to stop. Then he JERKS her into a sidepass, and a series of jerks up and down the slot, each time so sudden her ponytail flies out behind as she holds her belly, trying to keep the pillow from dropping.
They danced to "Dangerous" (Big Data)
Ben's sugar push using Courtney's belly; break-dancing holding hands; leading by the stomach ... all the while the jerking and jumping so much that her pillow slides, is stuffed in, and finally drops out completely and a new pillow is "born" (Ben kneels, on the beat of course, to wipe up puddles of amniotic fluid from the floor.)
Jordan: ["Zees definately not Sean's baby"]
Hilarious, and great dancing in between the constant stream of jokes.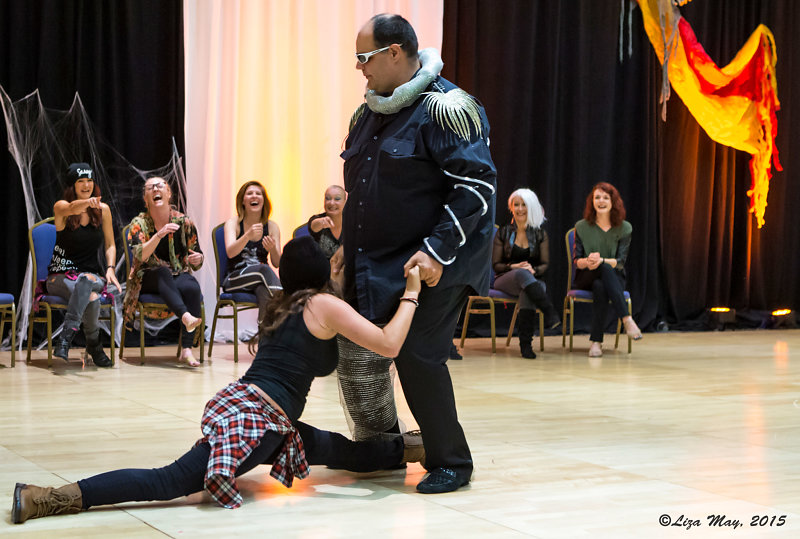 3. Lindo and "Future Nicole" (Torri), dancing to "I Don't Like It, I Love It" (Flo Rida)
Torri drops into a splits but on the way up Lindo changes his mind and BOOM drops her back down again, then up, then down - bouncing her up and down in a new move: "The Bouncing Splits." Torri's face! Priceless.
Torri is so good, so crazy good. She's flawless! Technically brilliant, gorgeous west coast swing, gorgeous footwork, gorgeous shapes; and she can follow any lead. ANY lead.
And SO sexy as a green M&M.
Jordan: ["Fyoo-Cha Nicole you're DIRTY-girl"]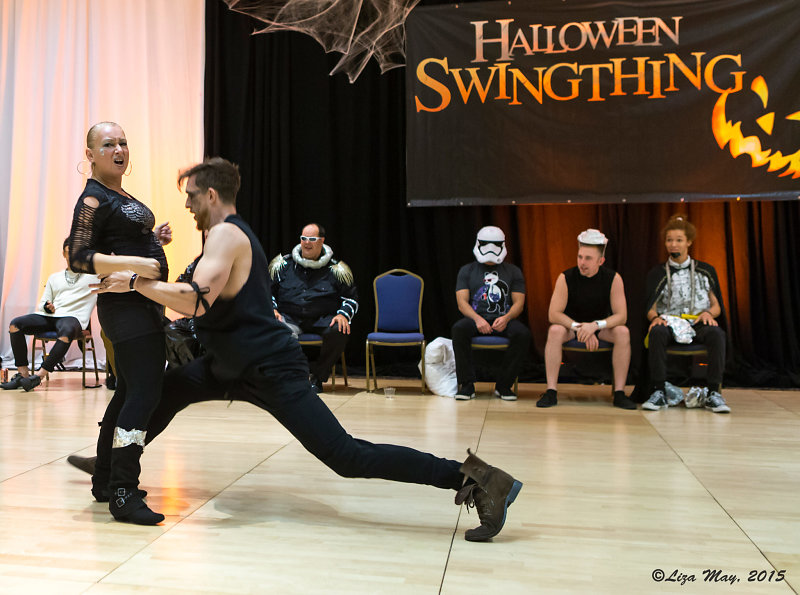 4. Sean and Deborah Szekely
Jordan: [Sean ees dancing vit Zeborah Zekay. Een zee Fyoo-Cha vee add "z's" to every-zing.]
First few moments of this dance, to their "future" music, this song:
It's "The Island of Children's Children" (Mum)
Louis Louis Louis! Where, how, did you find and choose this song? So very Iceland, so strange and marvelous!
Sean and his habit for losing shoes and various pieces of clothing while dancing. First he loses his charger (cause in zee fyoo-cha we all wear chargers around our necks;) and then he loses a hair tie ...
Pieces of costume all over the floor for this division. Especially tin foil. (Because in zee fyoo cha zere veel bee a lot of teen foil.)
They danced to "Just A Few Hours" (Bruno Swift)
Zeborah did a splits so Sean did a splits right after
Jordan [In zee Fyoo-Cha vee have new basic! Zee splits! Vee have splits! Vee have high kick! Vee have leg lift!]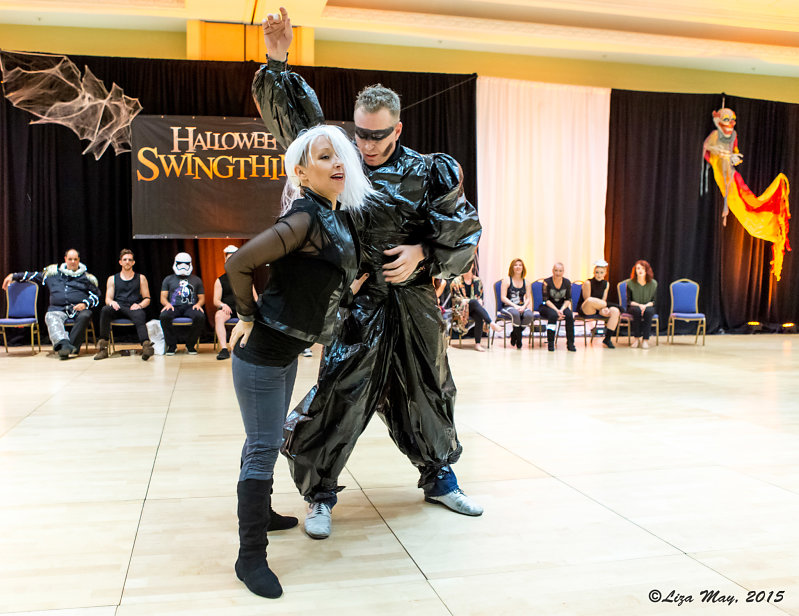 5. Kyle drew Sarah!
Kyle comes out in trash bags. Black trash bags and samurai makeup, and he actually looks like a samurai warrior.
Jordan: [Trash bags? Really? Who did this at the Open? Oh wait, it was Kyle! In zee Fyoo-Cha Kyle ees samurai. And trash man. Samurai Trash Man.]
And another bit of brilliance from Louis (I found these videos very moving, the haunting collages of old memories)
"Peach, Plum, Pear" (Joanna Newsom)
For their "real" song they danced to "Talking Body" (Tove Lo)
And - despite the hilarious costumes (Sarah a knockout in platinum hair, it suits her coloring, just stunning) - despite the costumes this dance was dazzling. Even silly costumes can't make their dancing any less of an amazement - so smooth, so FAST, flying, quick-footed, elastic. Just perfect dancing, perfect swing.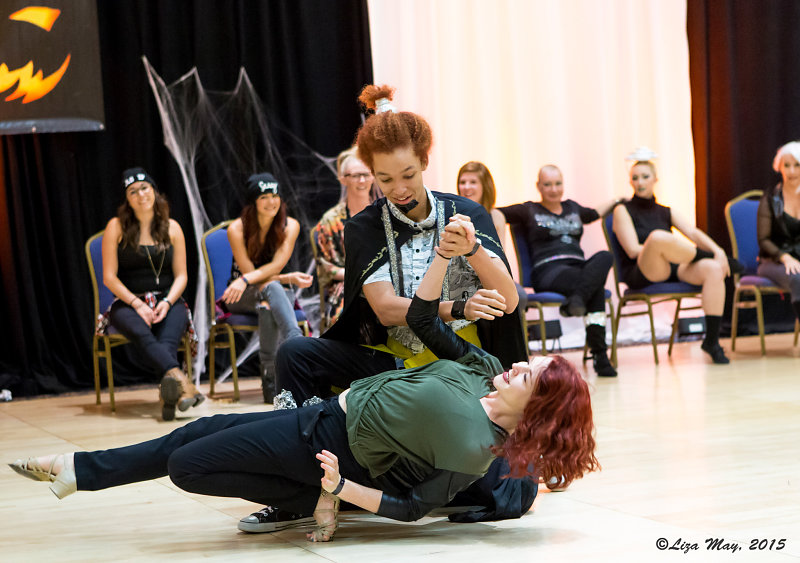 6. Ben O'Neal and Alyssa Glanville (they drew each other, too! (they were strictly partners!))
Pieces of costume - hunks of tin foil - falling off him throughout. Ben is a bright new superstar, full of life and enthusiasm, with crazy creative funky new moves, style that's his own, and blindingly fast feet. Add Alyssa's fast feet and awesome musicality, this was a fantastic pairing.
They danced to "Sorry" (Justin Bieber)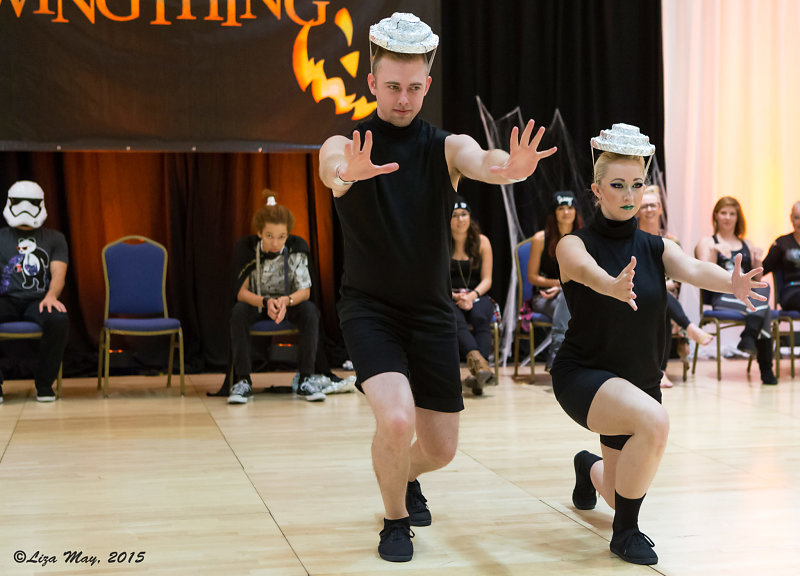 7. Ben and Cameo (Yes, and they drew each other, too!) In the same Devo costumes they'd used for their Strictly - only this time, for zee Fyoo-Cha, with tin-foil hats.

Jordan: [In zee Fyoo-Cha only whips allowed in vest coast sveeng!]
They danced to "You Know You Like It" (DJ Snake & AlunaGeorge)
First his tin-foil hat fell off. Then her hat fell off.
And after a LOT of whips, what you'd expect: amazingly fluid, inspired, connected mind-brain dancing.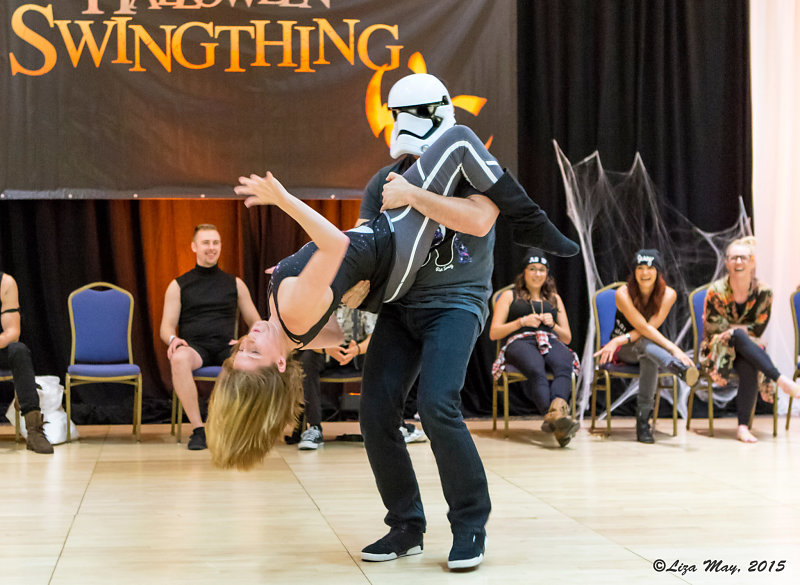 8. Parker and Melissa (Yep, they, too, drew each other!)
Jordan: [And our final Leedah, Pahkah Dea-bohn, zee Storm Trooper! (he puts the mic up to Parker's helmet and we hear "I'm looking at YOU!" "DROP your weapon NOW!" *
Jordan: [How much did you spend on that? Did you save the receipt?] ["PUT DOWN YOUR WEAPON!"]

Jordan: (referring to her Melissa's cat-ness in the Scary Strictly night before, and also because she was holding up her paws, meewing, and jumping) [What are you calling yourself? "Space Pussy?" Because there's a cat in an astronaut suit on your shirt? Okay, that explains it.]

They danced to "What Do You Mean" (Justin Bieber)
And once again, stunning dancing (with lifts, of course.) And even with a storm trooper helmet covering his face, and a follower bouncing and pawing like a cat. Stunning, amazing, beautiful - and so funny - dancing.

And finally, the All-Skate
Jordan: [In zee Fyoo-Cha zee All-Skate ees a Fight To Zee Death!]
What song did they get for the All-Skate? Road Runner.
I cannot tell you how many times over the last 25 years we got this song in Jack and Jills. Or how many times we suffered through it for late-nite dancing. I am still traumatized by this song.
Jordan: ["How depressing! "Road Runner" still exists in zee fyoo-cha! Vee veel NEVAH loose zees HORRIBLE song! NEVAAAH!"]
Ben O'Neal's wild red hair came loose out of the ponytail during the All-Skate and he DANCED that hair. It was a beautiful sight.
Random Wonderful Moments of the Weekend:
Maxime, straining, unsuccessfully, to buy a hamburger ...

---------
Carlito in his "Fyoo-Cha" costume which was himself stooped over, hobbling along with a cane - and then hurling away the cane! And dancing like 1982! Cause in ze Fyoo-Cha no cane!

---------

Tessa Antolini - describing what it's like for her as a ballroom pro new to west coast; this last year travelling our circuit, getting to know people, our community and culture; our events, working her way up the competition ladder. Saying this at one busy moment, when I asked what it seems like through her eyes, bringing me to tears:

"It feels like home. Like I've found my home. Like I've come home."
---------
Sarah channeling me so accurately even I was confused which one of us was which: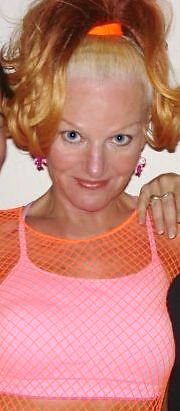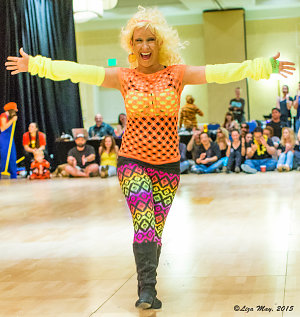 ---------
I still have a few last things I want to tell you about -- the terrific hotel for this event (new this year,) and couple last thoughts about what made the event unique. One more "update" on Halloween SwingThing and then ...
THE 2015 US OPEN!