Liberty 2015 Update #1 - History Is Made!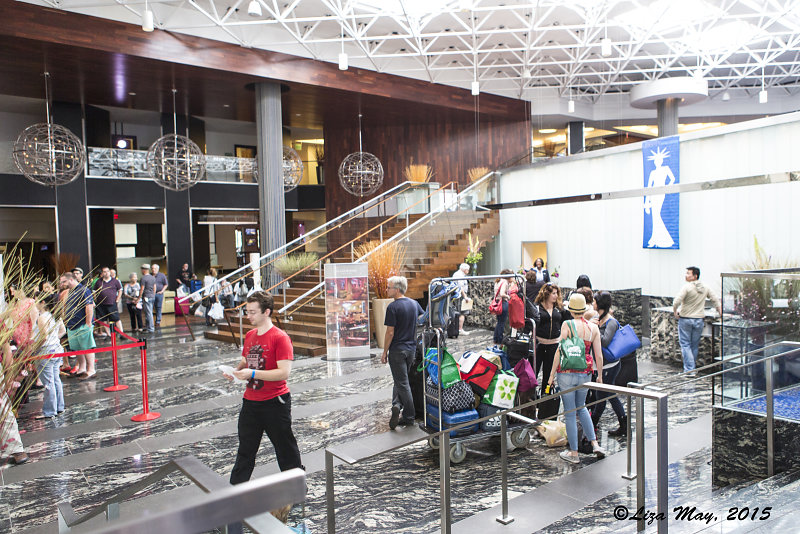 Liberty has begun!
The lobby! It feels different!
I'd remembered it as open, the hotel front desk facing you as you walk in, the Liberty registration table off to the right, up a few steps, almost hidden in an elevated alcove.
This year you walk in and a huge blue Liberty is the first thing you see, projected onto the wall above the front desk; immediately to your left the Liberty registration table, ridiculously efficient and organized (I'm in love with Allison, a drill-sergeant of a registration-desk manager, yelling "NEXT" with such force and seriousness you run where you're supposed to be before she pulls out handcuffs,) an excited line of dancers snaking through the cordoned line. And over on your right, with LIBERTY SWING DANCE CHAMPIONSHIPS projected huge on the wall above, a Liberty custom-design T-shirt shop. The ballroom doors next to that, the shoe vendors immediately behind the front desk.
In other words, you walk through the glass doors to the lobby and you are in LIBERTY. You have left the outside world behind and entered a parallel West Coast Swing universe where everybody knows your name and drama will happen.
Somebody said I'm misremembering. The lobby was already configured this way last year. I'm good at misremembering so that's probably true.
But something this year feels different, way different. The whole vibe is different. Way more electric.
Liberty IS different in some important ways.
This year Liberty is a NASDE event!
Hallelujah, I say. Liberty has felt like a NASDE event for a long time, with the respect and regard, high attendance, internationality, quality and excellence of production standards, clarity of vision, of an important Circuit event. It's John Lindo's leadership, and the competence and commitment of the people he chooses to work for and with him, like Allison for instance.
Another thing that's different: What happened this morning at the Supreme Court.
Today is an historic day for Gay Rights. Today the United States Supreme Court ruled in favor of marriage equality nationwide. Meaning that same-sex couples can marry in every state and territory, thus establishing a new civil right which gives homosexual couples the same legal rights and benefits as heterosexual couples, including legal and financial rights and documentation such as birth and death certificates. The U.S. is now the 21st country to legalize same-sex marriage.
I mention this because Liberty has quietly been at the forefront of this push towards equality, having always allowed men to dance as followers or women to dance as leaders. Liberty - at least in our minds - has always been the big, important event that managed to be very welcoming to gays while never scaring or offending anyone. We've always looked forward to seeing a whole bunch of gay dancers at Liberty that we'd never see anywhere else all year long.
It's not like Liberty is "the gay event" on the circuit, it's not that. It's just that John has made Liberty welcoming to gays. So you get to see, and dance with, dancers you never see at other events.
And now Liberty is NASDE!
But, wait! There's more.
Here's the coolest thing that's different this year:
You can dance IN A HIGHER DIVISION if you want!
And ... YOU DON'T HAVE TO PETITION UP!
You can dance in your wsdc points division - AND - in a higher division ALSO!
Some people - who all they want to do is compete anywhere everywhere until they drop - my husband for instance - people like him are swooning with delight. He doesn't care if he's dancing up, down, whatever - he just wants to be out there on the floor competing as many times as they'll allow him.
Other people are swooning in ecstasy for other reasons.
As in - VINDICATION Baby! Vindication.
The chance to show the world what they've always known about themselves! How good they actually are.

What I don't yet know is whether they'll be able to "point themselves out" of a lower division. Haven't yet talked to John nor have I seen a written explanation of the rules.
We shall see how this pans out. Whatever happens it will be FUN. I can't wait for Jack and Jills tomorrow! What a crazy great idea! Prelims are going to be very entertaining hahaha.
Want to watch? There's a livestream! It's actually accessible ON THE LIBERTY WEBSITE! Finally, someone's done that, put the livestream somewhere you can find it without hiring a private detective.