Summer Hummer 2015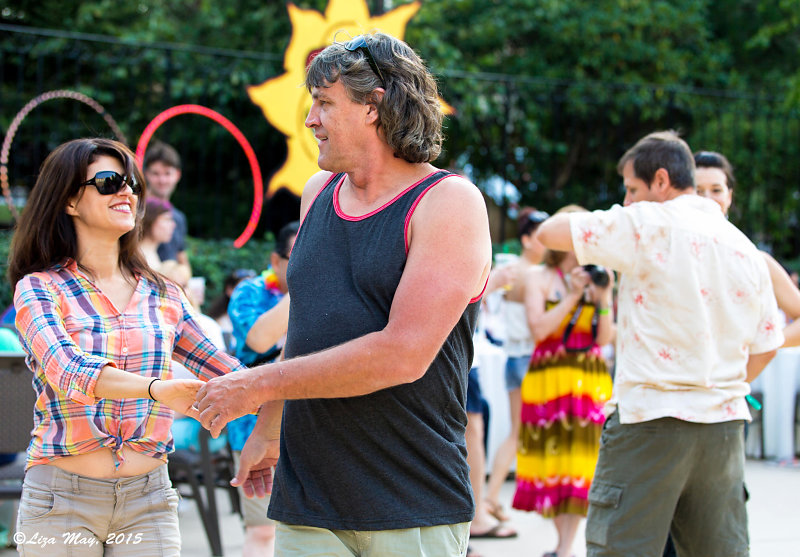 Summa Humma was fun this year!

Gorgeous sunny, dry, breezy weather all weekend (including Saturday for the Pool Party.)
Gorgeous sunny, breezy energy in the ballroom, too! And in the halls and elevators and restaurant, all weekend long, to match.
Everything ran on time, plenty of time to relax, plenty of time to social dance or compete, extra floors for practice or dancing during comps.
Thumbsup streamed the live feed all weekend so you kept an eye on the ballroom from your hotel room. No one missed their jack and jill, no pro's flight was cancelled, no disasters, no drama! Well, no drama that made the front page, that is.
It was a sweet weekend. Beautifully managed, everything moving along like a lazy river, seemingly without tension or trying too hard. It's like when a pro couple dances and it looks effortless. Summer Hummer felt like that, effortless, like all the work was put in beforehand to make the parts run smoothly.
The MUSIC last weekend!
So great!
Including comp music! Including comp music for lower divisions! Noticeably different feel than other (US) events this year - at least those I've attended.
(I'm qualifying that comment, putting "U.S." in parentheses, because I hear that only here in the US do we seem to have "baggage" about music for low levels. Combination of nostalgia and wanting to make sure new competitors get stuff they know, and that's easy to handle. In Europe, Asia, other new communities around the world, they don't have our long history so they don't have our emotional connection to "standards" and old standbys. They play great stuff for all levels, including Newcomer, Novice, and Intermediate, too. ("Great" meaning "songs these dancers love at this moment in time.")
Stellar team of deejays behind the Summer Hummer booth all weekend. Louis and Victor - the "Dream Team" - joined by Ken Mercik, Joe Mahoney, Willow Colson-Wall, Donnie Neron, Larisa! and Jordan Sat night 2am-5am! So great!)
But social music is often fantastic. It's comp music, especially for lower divisions, that's often a little blah. Or a little worse than a little blah.
Comp music was not blah last weekend!
Check out these Summer Hummer comp songs:


NOVICE


Hold On (Drake)


Somebody (Natalie La Rose)


The Way You Make Me Feel (Kurt Hunter)
INTERMEDIATE


Hoopty Hoop (Tyler Ward)


Say The Words (Usher)


Good For You (Selena Gomez)


No U Hang Up (Shayne Ward)


All Good (De La Soul)
ADVANCED


Universe (Mohombi)


Like I'm Gonna Lose You (Meghan Trainor)


Eyes Shut (Years & Years)


Post To Be (Omarion)


Can You Hear Me Now (Brandy)
ALLSTAR


You're So Beautiful (Empire Cast)


The Sky Is Crying (Stevie Ray Vaughn)


Don't Mess With My Man (Lucy Pearl, Le Boeuf Remix)


I Don't Need Another Lover (Billie Black)


SummerThing! (Afrojack)


Oh My (Haley Reinhart)


Baby's in Love (Jamie Foxx)

Danny's All Star Joint (Rickie Lee Jones)
Champion JJ Finals
For this, leaders picked their own songs beforehand. Check out which song each one picked, so so funny.

If all of us in the ballroom had been blindfolded we would have known which leader was dancing just from hearing the song. Who but Robert would choose AC/DC? Who but Jerome would pick that dark and moody Going Home? Who but Hugo that jazzy, rhythmic, Art of Persuasion? And who else in the world would but Kyle would choose Nae Nae stanky leg? Ben, Jordan, Arjay, Kris - we would have guessed every leader.



Hugo's Pick: Art of Persuasion (Alina Baraz)

Kyle's Pick: Watch Me Whip (Silento)


BenMo's pick: No (HNNY)


Robert's Pick: You Shook Me All Night Long (AC/DC)


Jordan's Pick: Extraordinary (Prince Royce)


Jerome's Pick: Going Home (Asgeir)


Arjay's Pick: That's What I Like (Flo Rida)


Kris' Pick: Here Without You (Corey Gray)
CHAMPION STRICTLY


Blue Heart (Charley Ann Schmutzler)


Shooting Star Remix (David Rush)


Return of The Mack (Rochelle)


Teach Me How To Dance (JLS)


Drug (Sweatshop)


The Fix (Jeremih)

Operate (Kill Paris)

By the way, I've decided to try to keep a public list of the awesome abundance of new west coast music that shows up every day.
It's like trying to keep a list of every new book; or every new dress in every shopping mall in the world.
I'm using Spotify because it's free and easy for anyone to join. Spotify doesn't have every song; there are some artists, like Prince and Taylor Swift, who don't want their music available for free, they want you to pay for it. And some artists are "under the radar" meaning they're not a "thing" yet, or they're under the drinking age, or who knows what. Some new stuff you can only hear by hunting the youtube video. But Spotify does have a lot, maybe even most.
Here's my "New 2015 West Coast Songs" list:
And here's my "1983-2014 West Coast Songs" list (where I'll be transferring songs from my own collection until the day I die and still won't be finished.)






As for pictures of Summer Hummer 2015 - they'll be posted here.
It's USOpen season!
But you knew that, of course.
This weekend is Labor Day, so Desert City, River City, South Bay, and Dallas. For me those events mark the end of summer and the start of Open Season, with all its excitement, beginnings, endings, creativity, endless work; and enough drama to last us through all of 2016.
The Open is our Big Fat Family Thanksgiving, complete with our own cast of family characters - the uncle who eats too much, the estranged brother, the cousin telling that same damn story again, the drunk aunt, the texting teenager, the couple who hate each other so you can't seat them on the same side of the table or they might use the turkey carving knife in a way that's inappropriate at a family reunion.
The Open! And the family is home for the holidays!
Nothing else like it ... and I CAN'T WAIT!