SwingDiego 2016 Update #1 - The Creepy Girl and The Breakfast Buffet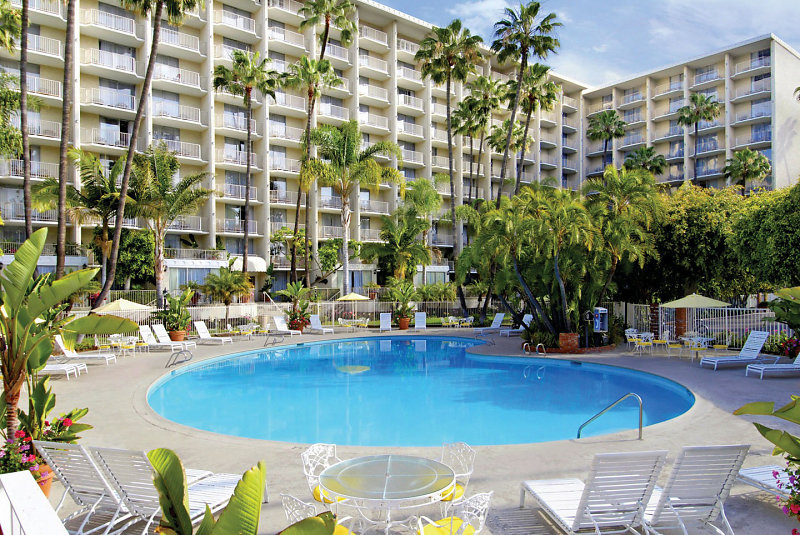 Blissful, breezy shiny San Diego!
The man in the middle seat on the last leg of my Flight-From-Hell yesterday is leaving San Diego for the east coast. He's tired of sun, beaches, birds, mountains and canyons. He wants freezing rain, thunderstorms, school snow days, humidity that puts beads of sweat on your fingers. A bit of gloom and depression to make life interesting.
We have a love-hate relationship with this hotel. It's hard to hate sitting on a balcony with a glass of wine, looking over the pools and hot tubs, the paths lined with white trellises pullulating with riots of roses.
SwingDiego hasn't always been here, but it feels like this place is where SwingDiego came of age and became the premiere event it is today. Seeing these grounds once again brings a rush of images, voices and the din of the ballroom, gut-splitting laughter, piercing beauty, visions on the dance floor one can never forget. We have nostalgia and so much love for this event and this place.
But the hotel makes itself hard to love unconditionally. It's like your lovely, talented 14-year-old niece who steals the keys to your car then drives it into your neighbor's swimming pool.
But! New management! Again.
No, this time is different, they said last night at check-in. This time things are going to change around here. For starters they're completely renovating the building we stay in - the Palm Towers - and by completely they mean tearing out walls and bathrooms, total modernization of the rooms in accordance with their luxury brand.
They also mentioned the breakfast buffet. I couldn't stop laughing. Winner of the Famously Horrible Breakfast Buffet prize - not just among us dancers - we have friends who come here for science conventions who come home telling about the Breakfast Buffet. And there are pages of outraged posts on TripAdvisor about this breakfast buffet. Last night they told me we are in for a great surprise. They have a new chef, very proud of him, we're going to like the Breakfast Buffet.
That's good because many of us across the world care deeply about the Breakfast Buffet.
One year there was a protest just outside our door, on the other side of the parking lot, angry demonstrators with signs and bull-horns pointed at the hotel, shouting about abuse of employees and other offenses. It was so loud we had to shout in the room.
They've always been understaffed, hence crabby and unresponsive. That seems to have changed with this new management. They gave me a hand-written Welcome Mr. and Mrs. Collins! card last night and a bag of taffy. They actually answered the phone, and Housekeeping appeared instantly with extra towels.
So there is hope.
The truth is that even if they never changed a thing, we'd still love this place. How can you not, when SwingDiego is all around you?