Liberty 2015 Update #5 - The Feel Of It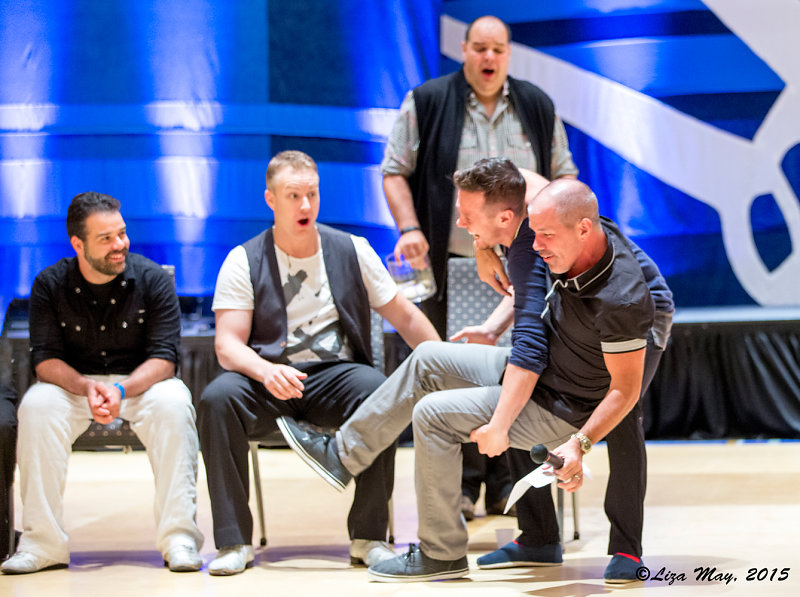 I'm tired, happy, brain fried.
Gonna talk fast, no editing. Please forgive the lousy run-on rambling sentences you're about to read.
Want to tell about the very unusual weekend, strange, wonderful, unique weekend we just experienced here at Liberty.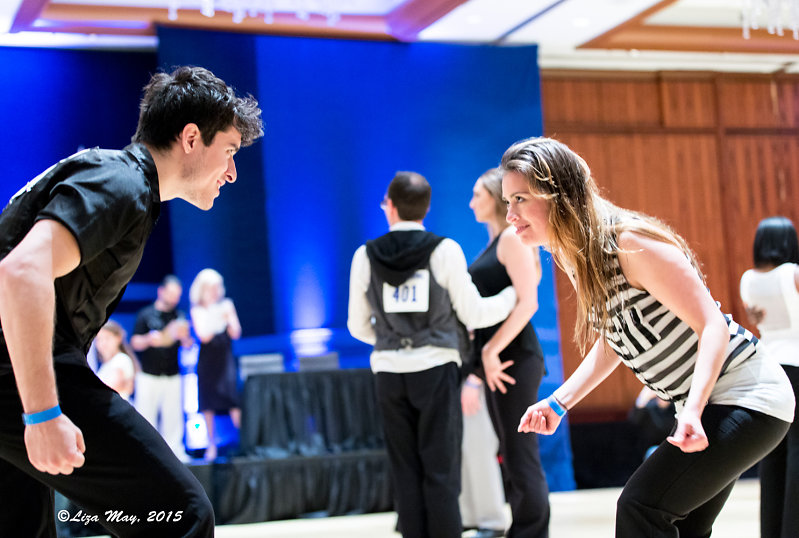 As I write this the Final Closing Dance is in full swing.
Wild down there, yet again. Social dancing wild and wonderful all weekend - packed ballroom Thursday, Friday, Saturday, again tonight. Dances ran till daylight. Lot of overseas people staying to party again tonight - expecting tonight's party to go on all night.
It's been a strange, unusual weekend. Disorienting. Electric. Tense, excited, weirdly different dynamic.
Why?
Because John allowed people to Dance UP.
Friday, as people were arriving, signing up for contests, you heard small murmurings, questions about this.
By Friday night the murmurs were louder. Beginning to feel like a tide was coming in, white foam and small waves beginning to break on the shore.
By Saturday morning large whitecaps crashing onto the beach. Saturday morning you woke up and everyone was talking about which divisions they were going to dance in.
Saturday midday Jack and Jills hit. And a giant tsunami crested over the ballroom as the entire event witnessed all at once what exactly we were in the middle of.
HUGE divisions. Cam, the floor manager, running back forth with stacks of paperwork, Dawn back and forth between Cam, the scoring room, and the floor, managing the judging. Royston losing his voice on the mic managing heats twice as large as normal. John himself blindsided by the unexpected flood of entries pouring into upper level divisions.
This was an event that was exciting for the "little people," the jack and jill dancers, especially those who've been stuck in the same division for years, maybe never making finals.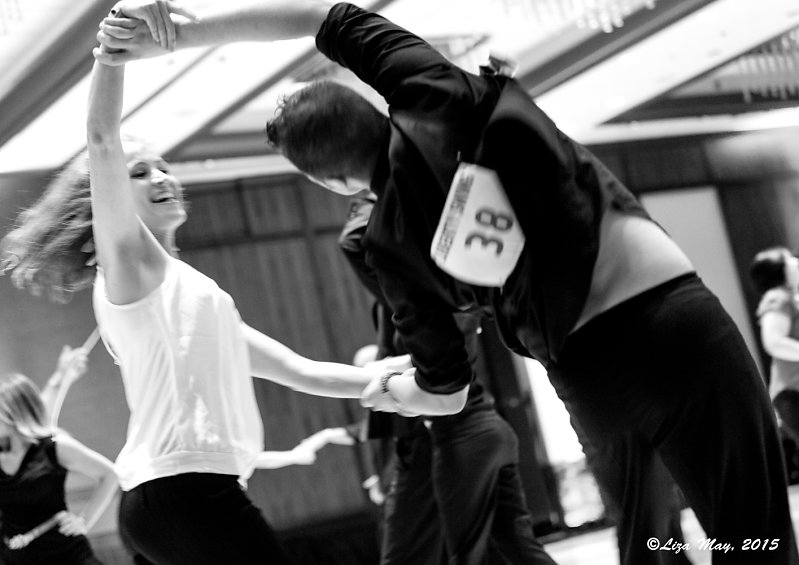 It was odd, almost confusing, strange people appearing in all divisions, including Champion. Someone behind me said "Wow, these are like real Jack and Jills. These people have probably never danced together, don't even know each other."
Usually at a NASDE event it's all about routines. Champions and Allstars are in the spotlight throughout the weekend, their routines, their strictlys, their jack and jills, their social dancing. Very visible, and everyone else a bit "in the shadows." That's not a bad thing. I - everyone - loves NASDE events, the opportunity to watch talented people dance.
But this NASDE weekend was not like that. Not at all. The focus was not on the "usual suspects." It was diffuse, it was on everybody all at once. Everybody felt more opportunity, and more risk.
The energy here was electric. Possibilities, new openings, new partners, uncharted territory. Very exciting.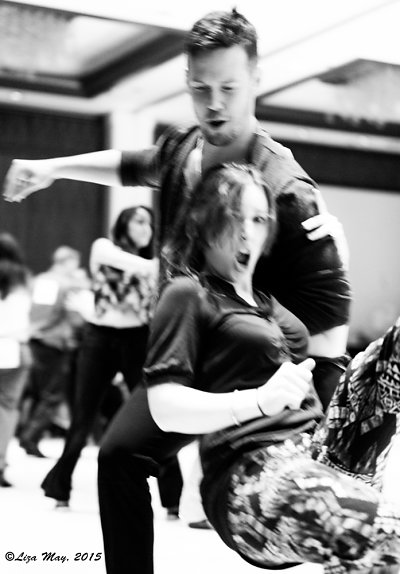 I asked John why he decided to do this.
The heartache and pain on his face when he told me his reasons!
He said he - and every other pro that travels - hears over and over again, for YEARS they've been hearing, from dancers all around the world, the same complaint, frustration, and weariness.
"I've been stuck in Novice for years. I can't even make Finals. I never get a good partner - I know I'm a better dancer than is showing, but I get "bad" draws over and over again. Judges tell me "you couldn't do anything with her" or "he gave you nothing, it wasn't your fault." I'm not just imagining it, this is really what's been happening to me for years now, I'll never get out of Novice (or Intermediate, or Advanced.) It's discouraging, I don't see the point anymore."

It's upsetting for teachers to hear this from their students, all around the world, this same story repeated so many times. You want to do something to help.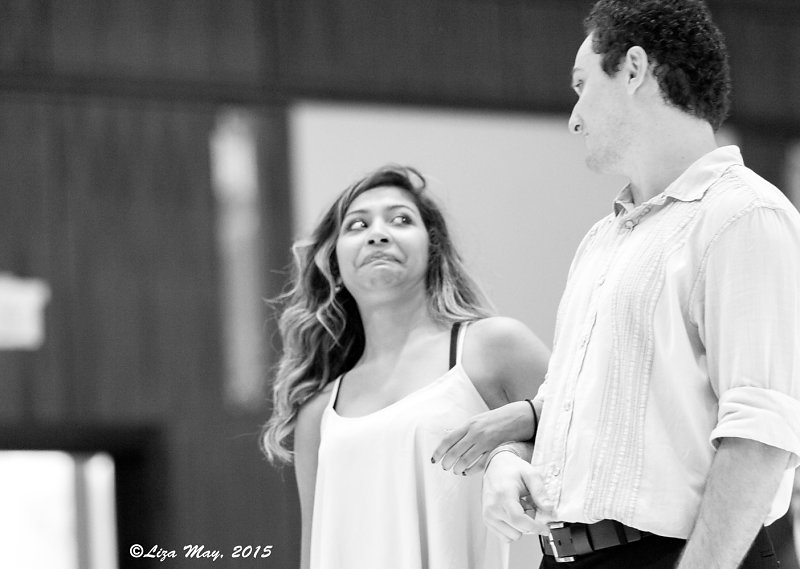 So John decided to give them a chance. He wanted to give them the opportunity to move up if they were able, to get good partners, to see how they'd do.
Dancers here LOVED it. Loved. I didn't hear a single negative comment from anyone who moved up. I did here a complaint from a dancer unhappy with having drawn someone from a level below - but this person had herself danced up into a higher division, and loved the chance.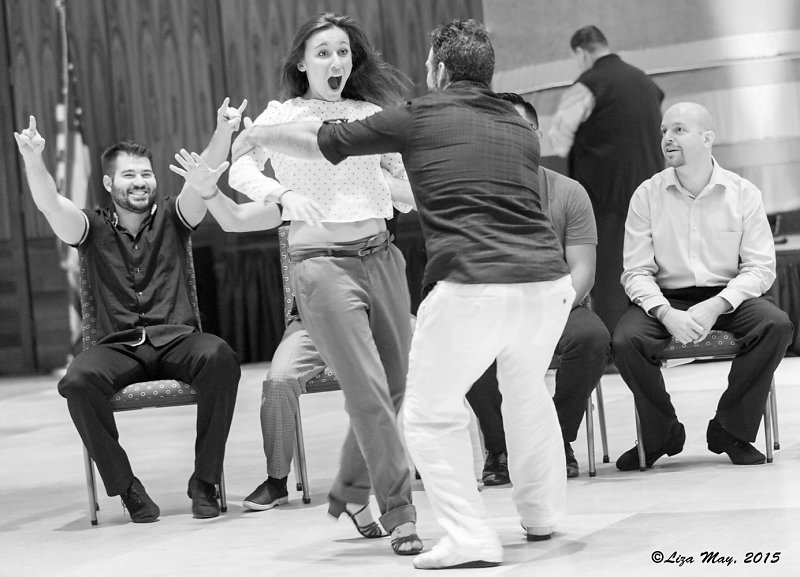 Talk about waves. I received waves of emails, whatsapp messages from around the world, facebook messages, texts, asking WHAT is going on?
And - the suggestion that John did this for the money.
HAHAHAHAHA!
Okay, I can see how, if you don't know John Lindo, you might think such a thing.
I am quite sure that there are Event Directors who saw this and thought "HOLY MACKEREL! MONEY! ALL THAT MONEY! Money money MONAAAY!"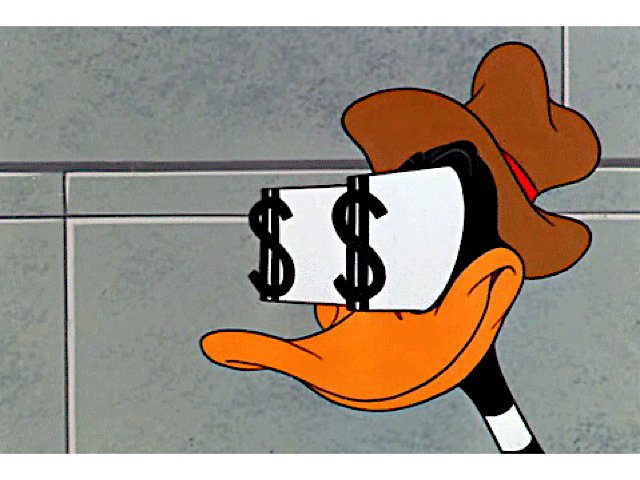 Not any Event Directors we know.
But.
Money is NOT why John Lindo did this.
Of all the Event Directors in the world, John Lindo is exactly NOT the one who makes any decision to put money in his own pocket.
The Jack and Jills? ALL the money dancers pay to enter Jack and Jills goes BACK TO THE DANCERS.
Not in a check - because international dancers can't cash a check. Many US dancers can't cash a check, college students or young adults, hard cash a check, to get to the signing bank.
Not an envelope with nothing but a W-9 form so the Event Director can claim the prize as a tax write-off.
No checks, no tax forms. Just cash. John gives the prize money IN CASH.
And it's the full pot. He gives back 100% of the pot. A "jackpot," for real, not pretend.
Some Event Directors siphon off some "for the house" meaning they take a percentage to pay the deejay, staff, hotel, whatever. Not John.
The WSDC fee of $1 per contestant? John pays that, out of his pocket. Some Event Directors take that out of the pot.
No, John doesn't take any of it. He gives 100% of Jack and Jill and Strictly money back to the dancers, all of it.
The Pro Dollar dance to raise money for the One Flap Down Cancer Foundation - 100% goes to the foundation. John pays the pros to dance in that fundraiser, then gives all proceeds to the foundation. Same with the "Better You" teaching sessions, 100% to the foundation while John covers expenses.

So.
This is not the Event Director that would make a decision to make himself more money.
Some might - but not this man.
John's whole mission in life is to make the community better. For the dancers. His whole commitment is to the community, and the people in it - that's you and me.
So no, he didn't do it for the money because he doesn't keep any of the money.
I want to tell you more, so much more - Royston's words Sunday, some extremely funny moments, some DAZZLING routines, some poignant beautiful moments, and news - but have to drive back to DC now and it's 3am!
So will have to wait till later.
Quite a weekend.
Oh, and by the way, here's who danced in Champion Jack and Jill prelims:
Roberto Corporan
Brennar Goree
Greg Scott
Jerome Subey
Jason Marker
Samir Zutshi
Jake Hanning
Matthew Smith
Christopher Dumond
Michael Kielbasa
Ben Morris
Benji Schwimmer
Matt Auclair
Michael Caringer
Maxime Zzaou
Gary McIntyre
Arjay Centeno
Kyle Redd
Hugo Miguez
PJ Turner
Steve Wilder
Kumar Ningashetty
Akil Boatwright
Brad Whelan
Kevin Kane
Lemery Rollins
Ksenia Nomberg
Lara Deni
Annmarie Marker
Abby Stone
Erica Berg
Shantala Davis
Hannah Clonch
Crystal Auclair
Dana Simonetti
Torri Smith
Kay Newhouse
Bonnie Subey
Erica Smith
Maira Pineda

Stacy Kay
Sarah Vann Drake
Kellese Key
Jessica Cox
Jennifer DeLuca