SwingDiego 2016 Update #3 - Get Ready To RUMBLE!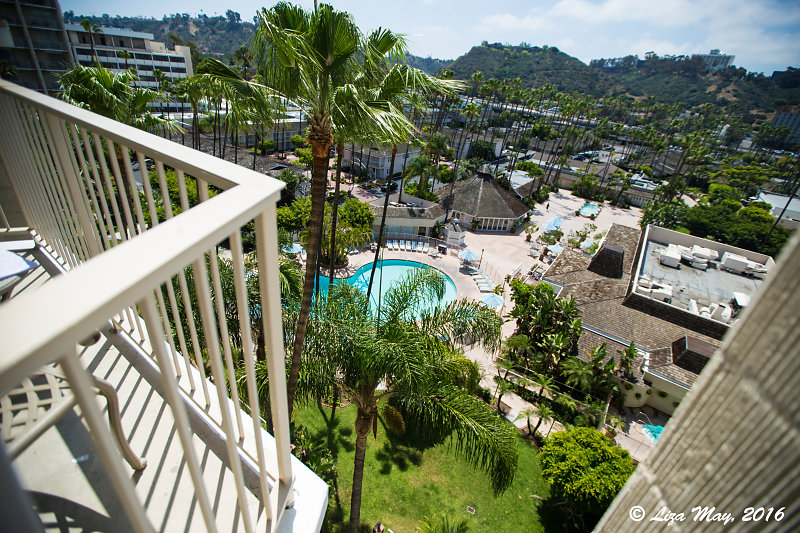 It's Friday morning, 10:30AM, as I write this, and not a soul is awake here, no one wandering the paths between the pools and roses, and, but for the lonely echo of a far-away metal chair scraping across a balcony, and the whisper of the wind in the palms, it is perfectly, perfectly quiet.
The full glory of the sun is just beginning to be revealed through the morning fog -- this gray ocean mist that comes to San Diego on May mornings, and lifts itself in slow motion, deliberately, to make you savor the suspense, like the slow unwrapping of a birthday gift.
No one in their right mind is up at this ungodly hour. Not after last night's wild all-night dancing and balcony/hot-tub parties parties; and not in these last few hours before workshops begin and the full weight of the schedule descends upon us.
Thursday nights at most events are often a gamble - who's flying in early enough for the Kickoff dance, how many local dancers will show up, which out-of-town pros might be available for privates.
Thursday here was a different animal!
Pro-Am Strictlys were held yesterday afternoon, and social dancing took off like a horse with cabin-fever before the last competitors even left the floor, not letting up until everyone took their seats for Rising Star at 9, and immediately taking off again with a frenzied excitement the very instant Rising Star was over.
And continuing at that feverish level until daybreak.
Rising Star was terrific! Ferocious competitors in this division, some fabulous choreography.
What's cool is that for this division Showcase rules apply, meaning that lifts and drops are allowed, but, unlike Showcase, are not required. Gives leeway for new competitors to experiment, find what they can do, and what feels most like their "language."
The ballroom! It is beautiful. Rearranged this year to feel more intimate, with the idea of re-creating the US Open "pit" of the past. Tables on all sides, every seat in the house brought closer to the floor, dancing to all four walls for all divisions this weekend.
And - an absolute TRIUMPH of lighting. Tom Perlinger's work, of course. Lighting so exquisitely arranged I wouldn't even know how to describe it. There are multiple spots, in groups or rows, at different levels, on all four sides of the ceiling, focused this way and that, small brilliant points here, large pools there; darkness, shadow, and brilliance cavorting with each other like gangs of fireflies or fairies playing across a night sky.
The floor is so dynamic, so dramatic! so alive! - that it dances all by itself even when the room is empty. I've never seen anything like it.
And, oh my goodness. Absolutely fantastic lighting for photographers. I am in photographer heaven.
And now ... here we go!
Strictlys!
Classic Prelims!
Showcase!
Too. Much. Fun!
We sure do love SwingDiego.