VIP 2011 Update #3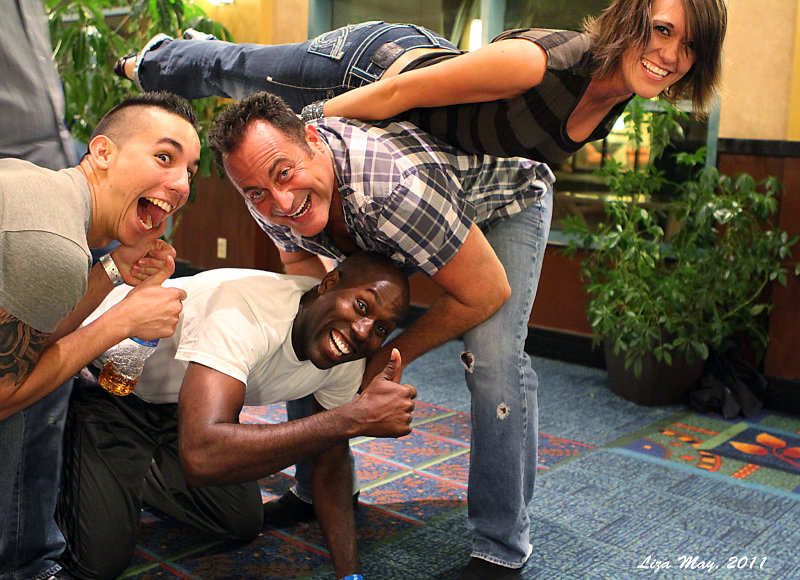 This is a great thing Barry is doing here!
I keep hearing from one Allstar after another how awesome it feels to have this opportunity to compete without having to go up against Champion dancers in the same division.

Robert Royston on the mic tonight. He is a great emcee. So funny. So quick! SO loves our community. So respectful of all the characters in it.
Robert opened the night by telling us about the Feather Awards. How back in the 90′s Barry was saying he'd like to bring back the Feather Awards, create a kind of People's Choice awards event to give non-Champion dancers a chance to shine. So the WAG Awards event has been born.

Because of this event people all over the world formed partnerships and worked to choreograph and perfect routines to perform this very weekend.

It's a great boost for advanced and allstar dancers in our community! A group particularly devoted to our dance, people who have put in years working to improve, competing in Jack and Jill's, Strictly's, and Routines. People whose faces we all recognize.
So tonight! Tonight was Teams:
"D Troop" – five adorable young girls (from Houston) all in black and either neon yellow, orange, pink, blue or green, with big numbers on their shirts. Cool jazz/hip-hop choreography to "Do You Remember" and "Give Me One Reason."
"Boom Boom Girls" – five more adorable not-as-young-as-the-last-team-and-definitely-fertile girls doing a burlesque chair-dancing act to "Welcome To Burlesque." Man it was hot. Robert said, after a long silence, "I never wanted to be a chair so bad in my life."
"Floor Play" – from Oklahoma City
"S Factor" – from Dallas – this is the team that wowed us at MadJam
Judges for this division: Arjay, Patty Vo, Michael and LeAnn Norris, and Chief Judge Yvonne.
And then, Classic!
Cooper and Jessica
Ed and MacKenzie
Steven and Carla (Texas … only their third time on the floor!)
Sean and Courtney
Michael O'Connor and Linda Cuccio
Kris and Rebecca
Mike and Angie
Ben McHenry and Cameo
Josh and Katherine
Robert, with a beautiful quote from Parker: "We can't know where we're going if we don't know where we've been."

Throughout the evening Robert has been acknowledging icons of our community, most of whom were seated there in the ballroom: Skippy! Maryann! Sharlot! Val LaFemina! Kellese (Robert called her "The Winningest Woman in the history of West Coast Swing – she's won everything there is to win! And she's always in such a "bad" mood.")! Michelle Kincaid! Jack and Annie! So many legends.

And Barry himself!
A beautiful evening.